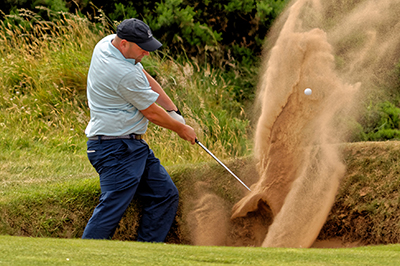 With only 5.2 million people living in Scotland, those who travel to Scotland for golf and to play at St Andrews Links tell me it is a life changing experience. Yet for me, having looped around the links courses at St Andrews over 3,000 times, some say I am a veteran caddie. One client recently told me that I was an outlier, that is someone who had crafted away for over 10,000 hours at the same job. He even sent me a copy of Malcolm Gladwell's book Outliers. I have caddied for some pretty smart and famous people like Roger Clemens, Brian O'Driscol, Dennis Irwin, James Milner and Lee Catermole.
During my time out on the links, I've been able to listen to exactly what golfers to St Andrews like and I'm please to have incorporated them into the design of our golf tours to St Andrews. It's all about being part of a family and as Scottish people are all descendants from clans, a favorite topic of conversation with golfers is the fascinating history of St Andrews and Scotland. It seems that we all know friends who have a Scottish family name derived from a real Scottish clan. Even today, the iconic Tartan kilts of Scottish clans are still worn as traditional dress by Scotsmen on ceremonious days such as weddings and birthdays. I've got a wee joke about this as well which I'll share with you out on the golf course.
Scotland isn't all about golf. When you're arriving into Edinburgh, you will see the super imposing Edinburgh Castle high on the hill overlooking the town. Walk up and down Princes Street for shopping and afternoon tea in many of the cake shops. Stroll along the Royal Mile, past Adam Smith's statue, the father of Economics and listen as students are often seen reciting the poems of Robert Burns, voted the most famous Scotsmen. Don't worry, I won't be reciting poetry out on the links of St Andrews. The scenery requires no words to describe the beauty of this sacred land. One of my favourite places to walk around in Edinburgh is Holyrood Palace where invariably, you'll hear the sounds of bagpipes as the sunsets. The sound of these ancient pipes stir the Scot soul and in the Summer, the Military Tattoo performances are held annually in Edinburgh. That is a must see and do if you can.
If you are a movie fan like me, you can enjoy a meal at the pub where Chariots of Fire was filmed. The Café Royal Circle Bar on West Register Street in Edinburgh has fine oak rooms and stained glass windows. You can also visit the National Wallace Monument in Stirling. Be sure to watch the Braveheart movie starring Mel Gibson before you go! I know you've seen it so watch it again 😉
A short 3 hour drive from St Andrews, you will find the famed Scottish Highlands. Before playing Castle Stuart or Royal Dornoch Golf Course, visit the Urquhart Castle on the shores of Loch Ness before traveling to Inverness and quaint towns and expansive mountains of the Scottish Highlands. If you're a history buff, you can check out Fort George as well where the battle of Culloden took place.
The beautiful countryside, glens and lochs separating the small towns make driving an excellent choices when traveling to Scotland and dear to my heart when I'm not looping the old course and St Andrews or helping good people like you design their ultimate golf experience to Scotland.
Contact me on kevin@scottishgolfexperience.com to discuss your upcoming Scotland travel plans.