WELCOME TO SCOTTISH GOLF EXPERIENCE
Designing your dream Scotland golf trip, from St. Andrews to Royal Dornoch
Every great golfer needs a great caddie. They're always on hand for sage advice, moral support and firm friendship. And so is the Scottish Golf Experience. We provide friendly expert advice and support to help you make the most of your one-of-a-kind golf tour of Scotland.
Founded by Kevin Fogarty, a professional caddie at the legendary Old Course at St Andrews, the Scottish Golf Experience offers unmatched on-the-ground expertise. Kevin knows every inch of the golf experience Scotland, from the stunning scenery of Kingsbarns to the lashing winds of Carnoustie to the tight fairways of Muirfield, and has the local contacts needed to tailor a Scotland golf trip itinerary to your exacting requirements.
Each of our unique Scotland golf packages – from the pre-planned to the build-your-own – is painstakingly prepared with you in mind. Kevin arranges everything from airport transfers and accommodation to tee times and non-golfing activities. We'll talk through your schedule, your budget and your bucket-list golfing ambitions, then you can simply sit back and relax while Kevin hand-crafts the Scottish golf package of your dreams. Whether budget-conscious or blow-out luxury, three days or three weeks, we'll make it happen.
So what are you waiting for? Start planning your Scottish Golf Experience today!
POPULAR PACKAGE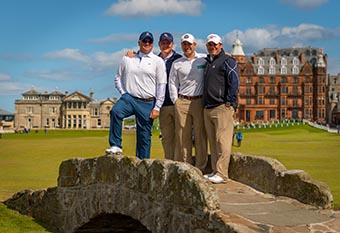 Old Course Ballot Package
The golf package of choice for 2018 with our visitors. If you missed out on a guarenteed tee-time on The Old Course St Andrews then this is the package for you. In addition to our normal services we will also enter your group into the daily ballot and rearrange any tee-times if you are successful.
Read More