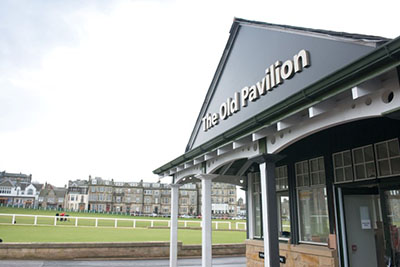 Save yourself the anxiety of getting a guaranteed Tee Times on St Andrews Old Course and paying an exorbitant price. A personal account by Marc Phillips.
I just received an email for entering the ballot from the Links Trust where if you're selected will charge your credit card 330GBP for a single baller guaranteed tee time at a date in the future. Here's the smart way to spend your money!
Firstly, I have been to Scotland 12 times over the past 15 years and played all over the great golfing Kingdom including many times on 'the old course'. This is how I do it. I get up at 5.45am, walk down to the small cafe reception area house just beside the putting green and 1st tee on St Andrews Old Course and put my name down on the sheet of paper that one of the staff behind the desk keeps. This is the 'standby list' in airline speak. You simply wait for cancellations and no shows. It has taken me 1 hour and sometimes 4 hours but I have a 80% success rate of getting on the old. Sure it helps being a single baller, dressed ready to play in my soft spikes and have my Golf Index ready to show the guys. Yet, they can tell if you can play golf or not as they see punters all day every day and can tell. A quick chat about where you've played, a good sense of humour about not worrying too much about waiting for a tee time that shows you are calm and patient goes a long way.
Sit down inside the newly renovated lounge, buy a toasted bacon/egg rolls which are fantastic and enjoy the sunrise with a tea or coffee. There's is also free WiFi so take a selfie and post it on social media and chat with your friends back home in the USA, South Africa, Spain or Australia!
You'll hear the staff member call out names of people who have their names on the list. Often they get tired of waiting and leave. Some eye contact with the Links Trust staff member in charge of the list periodically lets him know you're 'ready to play'. Go outside, have a putt on the green to keep your eye in and then relax and wait for your turn. I've been number 37 on the list at 6am and got on by 1.30pm. In the summer months, the last tee time is 4.30pm so just remember, you can save 200 pounds by being a little smarter and patient. Now that's good course management and thinking right! Remember, the weather changes on a dime in St Andrews. I remember back in 2014, I was sitting in the Seafood Restaurant having lunch 150 metres from the 1st tee at St Andrews Old Course having waited 5 hours for my name to be at the top of the list. Still nothing. I'd given up and thought I'll just go for lunch and then walk down to the New Course or Jubilee Course 300 metres away. Remember the New Course adjoins the Old Course so you're litterally playing on the same turf! And it will cost you 70 or 80 pounds to play. So you get the experience of St Andrews, the wind from Eden Estuary, the silhouette of St Andrew's buildings in view as you come down the back 9 holes. It's brilliant.
So back to my story..... I was half way through eating my fish lunch when the dark clouds appeared and 10 mins later it was bucketing down rain. I thought I'm in with a chance to play the old course, knowing that lots of people would then decide to leave for the day thinking their chances of playing were over. Knowing how fast the weather can turn from sun to rain and then back again is the key insight of a savvy single baller with their name on the waiting list for St Andrews Old Course.
You'll end up playing with some great people you don't know. They are excited to be playing St Andrews Old Course. You can see your friends at the Dunvegan Hotel for beers after your round so don't be too disappointed you don't play the old together. Don't stress about pre-agreed ballotted tee times in Scotland. The New Course isn't new. It was built by the Tom Morris in 1895! And if you can't get onto the New Course or the Jubilee Course at St Andrews, jump in your car and head over to Crail Golf Course. It's an absolute gem for 70 pounds.
If you would like to visit St Andrews as a single golfer check out our St Andrews as a single golfer package and let us plan your trip!